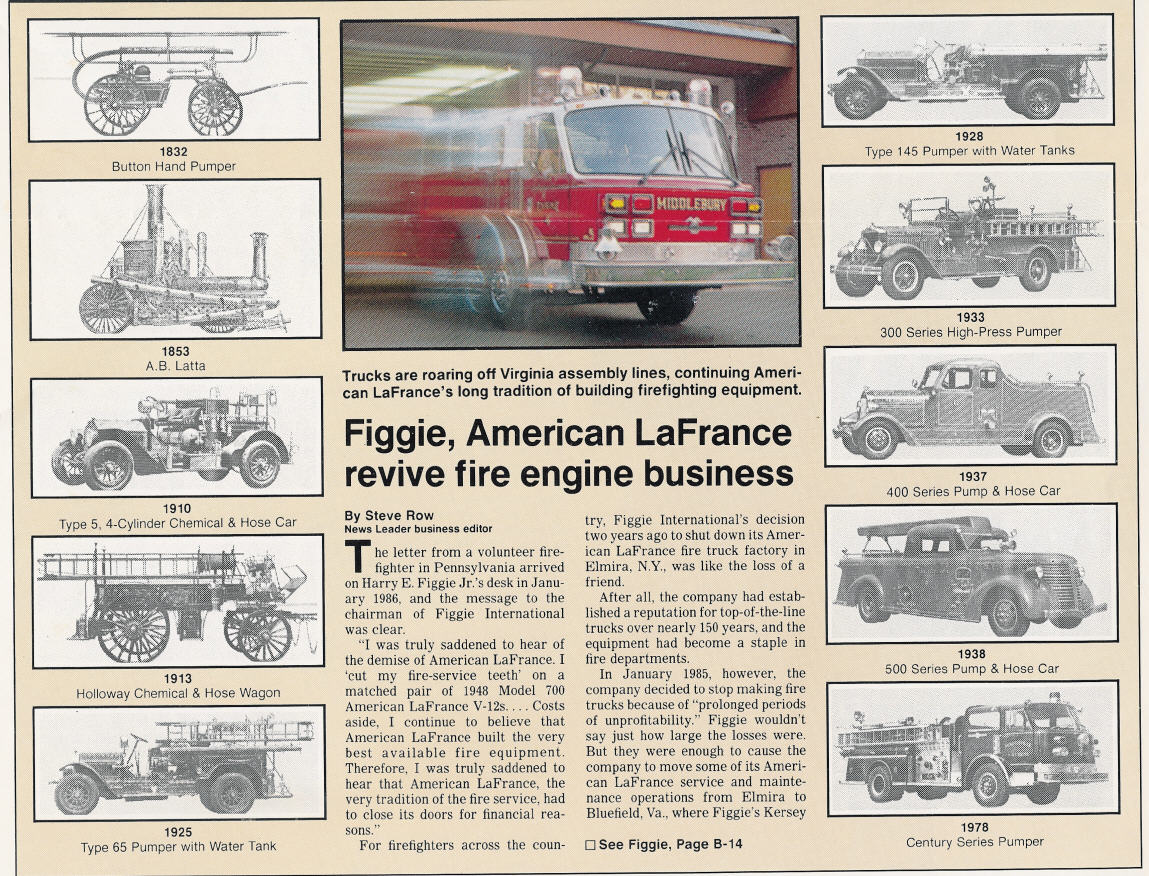 ---
Nothing can be related regarding American LaFrance without first beginning in New York's Southern Tier. The home of American LaFrance from 1873 to 1985, Elmira and later an Elmira suburb, Southport were once billed as the "Fire Truck Capital of the World." But, in January 1985, Figgie International Incorporated, the parent company of American LaFrance announced the sacking of that Capital. By June of that year, managers, designers, engineers, metal craftsmen, machinists, mechanics, and assembly workers faced the demise of one of America's greatest companies.

After the closing, Figgie shipped the equipment and stock of the plant to it's facility in Bluefield Virginia. At 600 Mountain Lane, an eight acre facility housing the Kersey Manufacturing plant, the means to manufacture fire apparatus were deposited. This plant was the home to the manufactures' of mining equipment and aircraft towing tractors. The American LaFrance Service Centers located in six areas of the country, were spared the Figgie swan song.

In early 1986, Figgie announced that the facility in Bluefield would begin producing American LaFrance fire apparatus. The newly designed "Century 2000 series" would be made by Kersey/American LaFrance. This design retained the "signature" American LaFrance look of the Century series, but was wider, lower, its windshield larger and nearly the entire body was made from low carbon 304L stainless steel. The first of the line was produced for a long-time American LaFrance customer, Albany New York. This engine was a canopy cab, 1500 G.P.M. pumper featuring a 500 gallon fiberglass water tank, 350 H.P. diesel motor, automatic transmission, Akron foam system, it was painted American LaFrance red with a snow white roof and was adorned with the city's Tricentennial seal on the front doors.

Kersey/American LaFrance production centered on two models of the Century 2000, the two-door canopy cab and a four door enclosed sedan cab. The sales literature listed 120 standard items and a price tag of $185000.00 for the standard model. The first few built were for long time American LaFrance customers including Deer Park, New York who purchased a pair of sedan Century 2000s.

During the first year of production a lower priced model was introduced. The Pacemaker, built on a Pemfab chassis with an Pemfab canopy cab attracted customers like Rialto, California, who purchased the initial offering along with 3 more over the years. Pacemakers were offered in a pumper configuration, along with Squrt models ending with East Farmingdale's monster.

Like the former great company that resided in Elmira, Kersey/American LaFrance built what the customer wanted. Since it had the metal fabrication equipment from the Southport plant, Bluefield turned out several Century series fire trucks. Beginning with a canopy cab Century for Clifton, New Jersey, the Century production included a 75 foot Century quint for Wythville, Virginia and pumpers for West Meade, Pennsylvania and Charlestown, New Hampshire.

Other oddities were the Century 2000 built for Haverstraw, New York which featured a right side pump panel reminiscent of the 700 series of the 1940's and a raised roof Century 2000 built for Front Royal, Virginia. Two Century 2000's were assembled entirely at the Dunmore, Pennsylvania Service Center, one for Dickson City, Pennsylvania and the other for Middlebury, Connecticut. One of the biggest oddities was a massive tandem axle, pumper/tanker constructed for Middlebury, Connecticut which featured a ground foam system, along with a foam turret mounted on the Century 2000 cab.

In addition to the Century apparatus built, Kersey/American LaFrance produced several low profile Century aerial ladders for customers like El Paso, Texas and Lakeview, New York. The Lakeview rig had to be the most controversial unit produced at Bluefield. This low profile, enclosed cab Century, 75 foot quint, dubbed 'Big Fred" by the Lakeview members was rejected by the Department at delivery. The vehicle was returned to Bluefield where it languished in the parking lot until the closing of the plant. The property of Figgie, and not part of the asset purchase by Freightliner in 1994, it was moved around and offered for sale to several departments before disappearing for many months. Figgie finally took possession of the rig near Scranton, Pennsylvania and it was sold to North Hampton, Pennsylvania.

As production continued in the early 1990's, the Century 2000 was clearly an East coast truck. With only one each going to California, Washington, Canada and the Mid-West receiving a handful, the 2000 dominated from Florida to Connecticut. Multiple orders for the 2000 was monopolized by Albany, New York, who purchased five pumpers and two tractor drawn aerials, followed by East Orange's three pumpers and one rear mount Water Chief. Pittsburgh, Pennsylvania acquired four 75' Water Chief II's and Newport News Virginia obtained three pumpers. Other repeat customers were of course Middlebury, Connecticut, then Waterbury, Connecticut, Manchester, Connecticut, Pensacola, Florida, and Parsippany, New Jersey.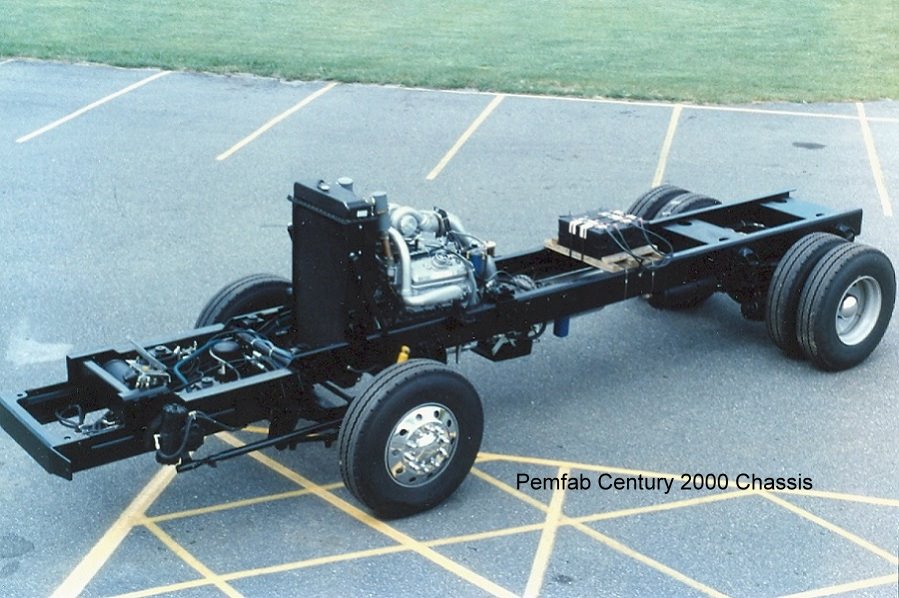 The early 90's also ushered in the acquisition of Hahn Fire Apparatus by Figgie and Kersey/American LaFrance's introduction of a newly designed tilt-cab apparatus named the Patriot. Designed by A.D.I. of Ohio, this apparatus featured a large, unwieldy Euro-style cab with seating for six or ten. It sported a massive front bumper that would make a tow truck jealous. Fifteen of these fire trucks were built, with four going to Pittsburgh, Pennsylvania and a black capped pair to Suffern, New York. Schuylkill Haven, Pennsylvania scored the last Patriot which was the second to last vehicle produced in Bluefield.

Also in the early 90's, in search of an additional economical model, and in an ironic twist of fate, Kersey/American LaFrance partnered with Freightliner to introduce the "World Class" Freightliner pumper. A one-off Freightliner chassis based modular-fiber-glassed bodied pumper that drew little attention and was finally sold to Calabash, North Carolina.

By 1994 Kersey/American LaFrance was bleeding red ink. At the middle of the year's first quarter, word had been sent down to the sales staff that no new orders for any fire apparatus would be processed. By year's end the grim reaper that had visited American LaFrance's Southport plant had set sights on the Kersey/American LaFrance facility. In eight years, the Bluefield plant produced some 151 pieces of custom fire apparatus. By contrast, the Elmira/Southport facilities produced about 400 vehicles per year. But, comparably; managers, designers, engineers, metal craftsmen, machinists, mechanics, and assembly workers met the same fate that be felled the Elmira/Southport workers.

In early 1995, the trade name, assets, inventory, and historical fire apparatus collection were acquired by the Freightliner Corporation who later began producing American LaFrance fire apparatus in Ladson, South Carolina.
The cycle began anew not 10 years later when Freightliner Corporation divested the American LaFrance holdings to Patriarch Partners, LLC.
As of January 18, 2014
CHARLESTON, SC -
American LaFrance, a fire truck maker that has been in business since 1873 and was based in Moncks Corner, closed for good this week.

According to several sources, employees were told at 5:00 p.m. Friday not to return to work this week.

There are an estimated 150 employees at that branch of the company.
The company has released a statement confirming the closure, along with sites in Ephrata, PA and Los Angeles.
The company blames its "unexpected current financial condition" for the closure, but didn't offer specifics.